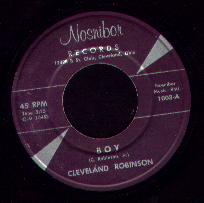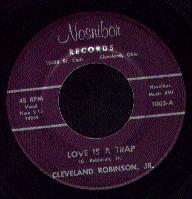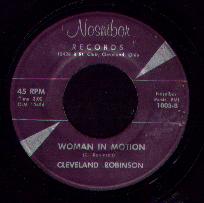 I first was allerted to Cleveland's material via his version of the Oscar Brown classic, "The work song", when it was played by one of my deejay heroes, Guy Hennigan, at the now legendary Stafford allnighters in the mid 80's. After locating a copy of that nugget, I soon picked up a second disc on the Nosnibor (Robinson backwards) label on the strength of the first one, and was delighted to find it equally as soulfully strong......both sides, "My place in the World / Woman in motion". That was enough for me to go on a search to obtain all his material!

The song called simply, "Boy" was released four times in all on Nosnibor, with every release having a different musical approach:

#1003 - performed as a ballad with male group backing vocals, plus organ and sax work throughout.

#1006 - is the solid 60's typical Bert DeCoteux production, c/up as "Bud Harper - Lonely boy".

#1011 - same backing track as #1006, but with added bongos and harmonica parts.

#1012 - An altogether funkier approach, courtesy of Gene Page on production.

"Woman in motion" appeared twice on both versions of #1003 - the purple coloured Rite Sound press (scan below) is uptempo (not in a Northern Soul kinda fashion) with organ, sax and male chorus, whilst the white label copies (see below) is a solid Northern Soul mover. Without a doubt though, it is release #1002 that attracts the collectors and dancers alike, "Love is a trap". This single according to Cleveland's own web-site sold in excess of 9000 copies, but remains a very hard original (seems to be  acouple of different fonts used, so two pressing runs at least!) to locate and still commands a price tag of £600+ a copy!

Here's what I've pieced together of his output, thus far -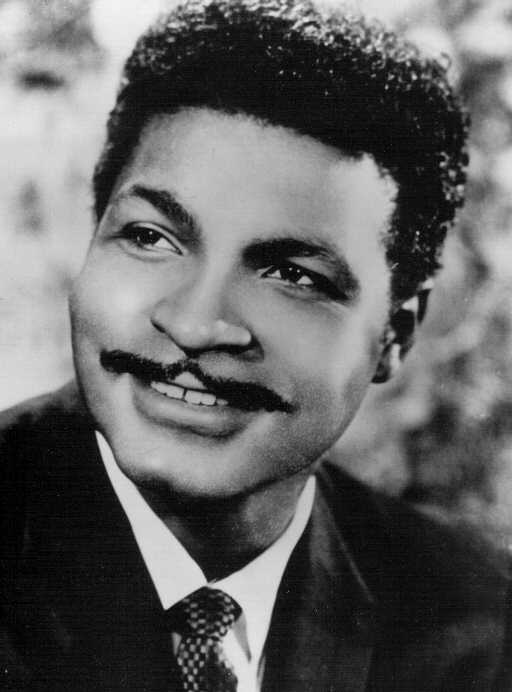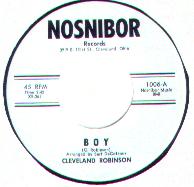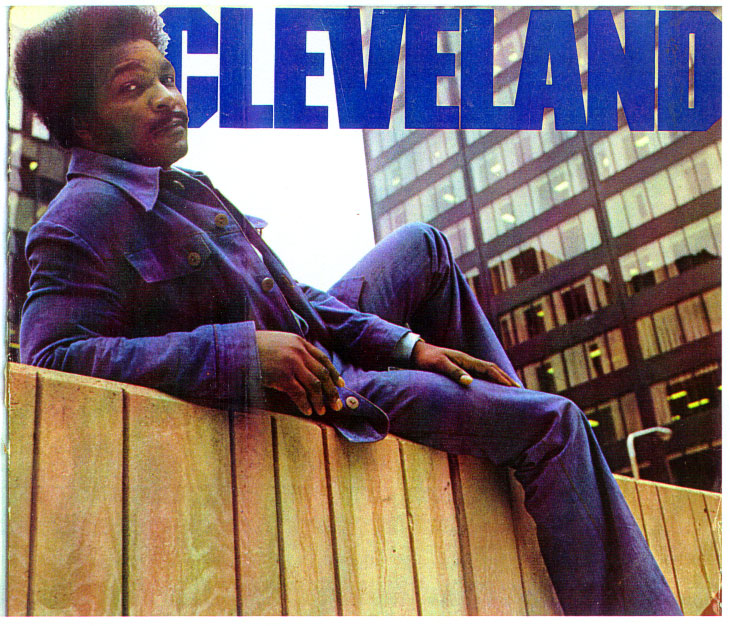 Cleveland Robinson Jr. was born in Macon Georgia but was raised in Pittsburgh, Pennsylvania, where his singing career started within a Quartet at his local church. His next move was to Cleveland, Ohio where he started to pursue a career as a singer.

His first professional recording was at Schneider Recording Studio in downtown Cleveland Ohio, which led to local entrepreneur Redda Robins taking the tapes to Murray Deutch at United Artists. Cleveland was awarded a contract on the UA subsidiary, Ascot Records. At this point he had to put his fledgling career on temporary hold due to personal problems, but he'd already started another business in order to provide a steady income for his family which by now had grown to seven!

However, Cleveland would still sing whenever and wherever he could, including club work and a few appearances on "The Big 5 TV Show." He tried to capitalise on this by forming his own record label to release his own material on, naming it "Nosnibor", which is simply "Robinson" spelt backwards! During it's early days the family garage was utilised as a receiving and distribution base. He also promoted the releases himself and even with limited distribution and exposure he experienced success. According to Cleveland's own web-site, "Wishing Well" sold 7200 in one week, whilst "Love is a Trap" sold a quite unbelievable 9000 in just twelve daysyet this disc is still very much a rarity to find and commands a £600 price tag within the Northern Soul scene. Unfortunately, even though he scored some success locally, his lack of effective National distribution meant his tracks were never ever gonna break through to the big time.

Cleveland's next break was a recording contract with the Brown Bag label, which was owned by Terry Knight who was the manager of super group, the Grand Funk Railroad. He received an advance but the deal fell through before the material could actually gain a release with them. The material was produced by the mighty talented Gene Page and was too good to leave in the can, so Cleveland released it on his own label. Once again he suffered from the lack of national distribution behind him, hence his LP like his "Love is a trap" 45, is a super rarity! The responsibilities of a successful business and a large family eventually diminished Cleveland's singing career, although he did continue to record every now and then.

There is a happy ending though as although his material didn't dent the charts at the point of their initial release, several of his sides were picked up by the UK's definitive soul underground scene, known as Northern Soul. This scene with it's passion for little known US 1960's soul/R'n'B recordings started featuring his version of "The work song" in the mid-80's, which led to the insatiable collectors searching out all his material. In the late '80's, some fifteen years after its initial release, "Love is a trap" become one of the biggest and most indemand sounds on the scene and still packs a dancefloor today! In fact, the Northern Soul scene is now a World-wide one with regular clubs in Spain, Italy, Germany, Australia and Japan!

Soul Survivor

Cleveland Robinson

Mr.Nosnibor

DEBRA

63

  THESE ARE THE HANDS / COME CHANGE YOUR NAME

ASCOT

2132       THESE ARE THE HANDS / COME CHANGE YOUR NAME
NOSNIBOR 1001

A MAN GOES OUT / INSPIRATION
NOSNIBOR 1002

LOVE IS A TRAP / A LOAF OF BREAD
NOSNIBOR 1003

MY PLACE IN THE WORLD / WOMAN IN MOTION
NOSNIBOR 1003

BOY / WOMAN IN MOTION
NOSNIBOR 1004

WORK SONG / A MAN GETS TIRED
NOSNIBOR 1005

THIS IS AMERICA / IF I HAD A HAMMER
NOSNIBOR 1006

BOY / LET IT BE ME
NOSNIBOR 1007

MR.WISHING WELL / TAKE A FOOLS ADVICE
NOSNIBOR 1008

LOCH LOMOND / A LOAF OF BREAD
NOSNIBOR 1009

JUNGLE DOLLAR / UNDERSTANDING
NOSNIBOR 1010

LOVING TIME / LET IT BE ME
NOSNIBOR 1011

BOY / SOMEBODY TO LOVE(DeCOTEAUX)
NOSNIBOR 1012

BOY / SOMEBODY TO LOVE (G.PAGE)
LP NOSNIBOR 1723

I GOT YOURS YOU GOT MINE, JUNGLE DOLLAR, NO ONE CAN TAKE YOUR PLACE, I GIVE TO YOU &

YOU GIVE TO ME, DO'T STOP THE FEELIN', 24 HOURS A DAY, LOVIN' TIME, CHANGE YOUR NAME TO MINE, RIGHT ON, (PEOPLE WITH THEIR) HANG UPS

recorded at Cleveland recording Studios & Way Out Studios.