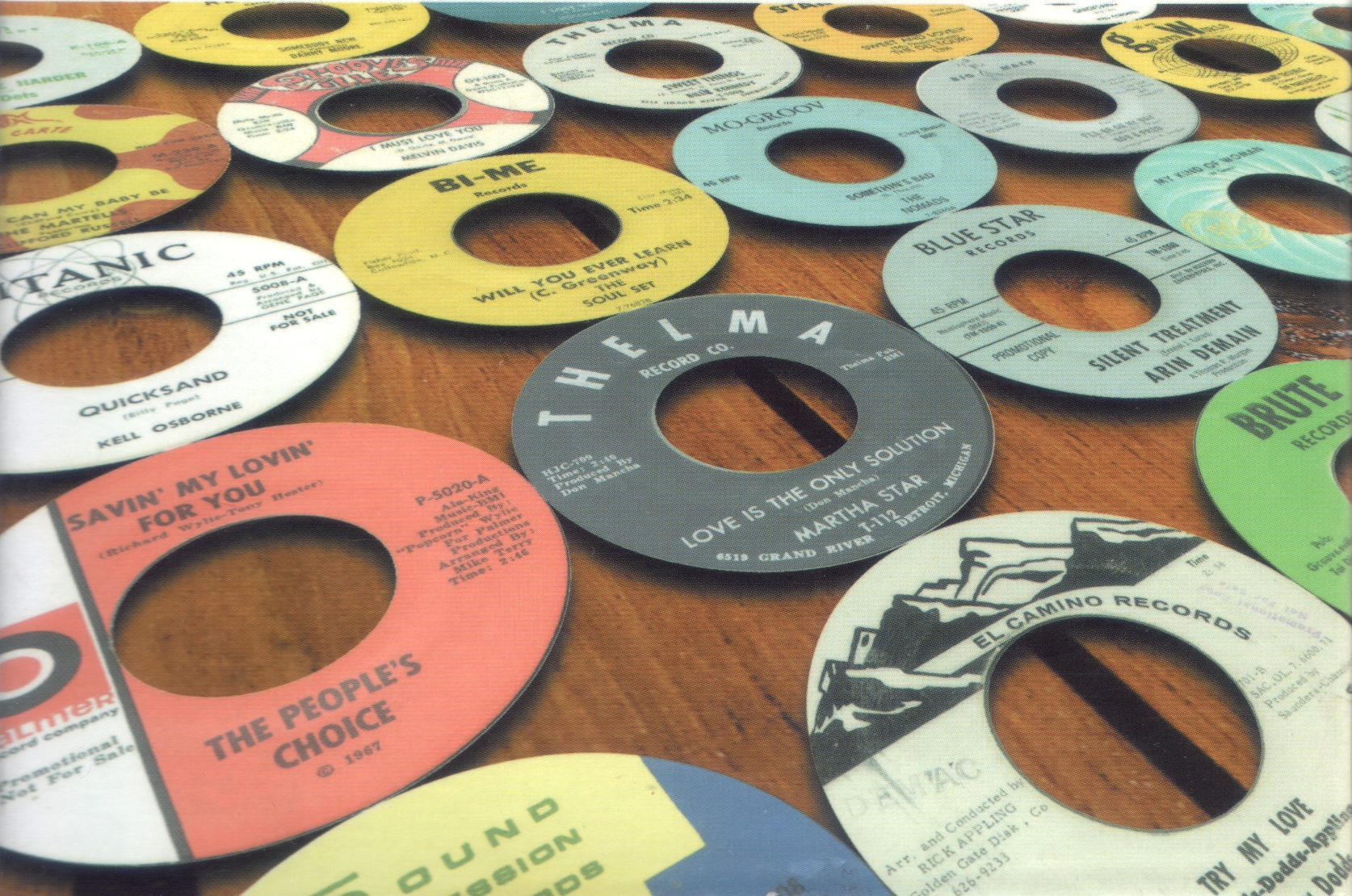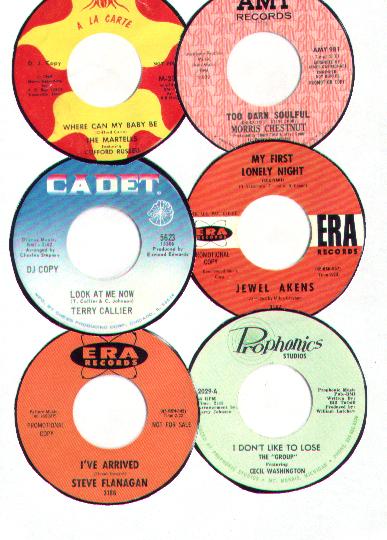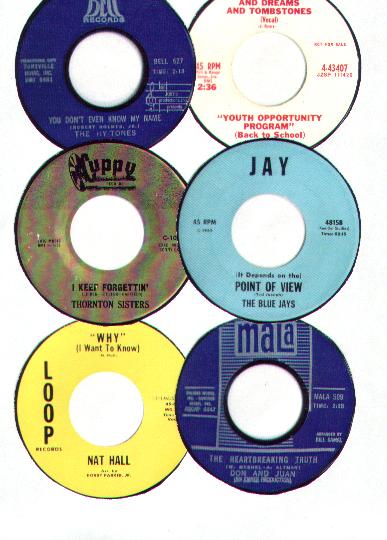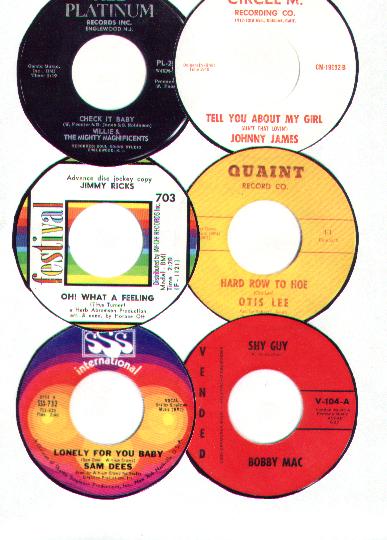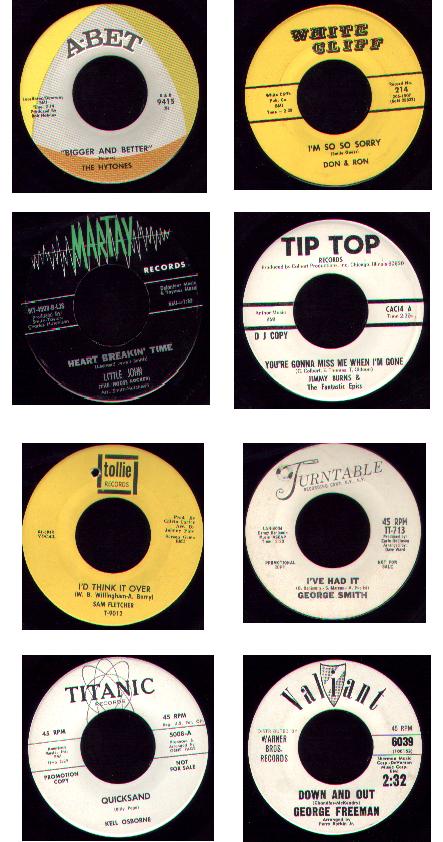 Well, here's a rather nice bunch of discs from my collection over the years!

Note the original multi-coloured label of The Martells (feat. Clifford Russell, not the soul one, but a C&W singer still recording today!) as opposed to the plain yellow label bootleg from the 80's.

A few classics from Morris Chestnut (look out for the plain blue label rarer stock copies!), terry Callier and Jewel Akens with his "Northern" take on "Sukiyaki" (different and superior to the version on his LP, be warned!).

Jesse Davis' stormer on Era also exists on blue/white/green label stock copies...and there's different b.sides too! The Group feat. Cecil Washington or dare I say "Joe Matthews" - awesome track!

The Bell promo of The Hytones, which seems to be just as rare as the Southern Artists local release. Their other popular Northern spin is also below on Abet. The radio station copy crediting the "Youth Opportunities Programme" also released as Jimmy Frasier on Columbia.

The Cuppy label was owned by Bill Haley's wife and is home to the Thornton Sisters manic version of Chuck Jackson's classic, as well as the DeLites' "Lover".

The White Cliff label out of New Orleans is home to many obscure releases and I've never ever seen a complete label discography for it. Don & Ron was a popular disc at the Yate allnighters and is once again attracting turntable attention.

Little John, or "The Tripps" as it was first known as, is a fantastic 100% Northern Soul dance track and is over due for reactivation, maybe?

The Jimmy Burns white promo copy is very tough to track down, and it features the beat ballad "It used to be" on it's flipside.

Here's a bunch of four of the most indemand and finest examples of Northern Soul big-beat-ballads!

Sam also recorded for RCA and VeeJay but never topping this track, and George was a mere 23 years old when he cut his turntable 45. He also recorded his version of Gene Chandler's "Pretty little girl" for Laurie.

Kell's Highland and New Bag label 45's are also well indemand, and George also released his version of Tommy Mosely's Uptown track, "You lied, I cried, love died" on Okeh.

The Blue Jays' sparse track has gone on to bigger things on the dance-floor in the late 90's early 00's, as has Nat Hall's Stafford spin!

Don & Juan have recorded several Rare Soul sides for Mala and Big Top and this big powerful number was played as "Jack Montgomery - And I always will" during Stafford years - still tough to find nowadays too!

Willie & The Mighty Magnificents was another Stafford spin (Dave Thorley) long before it was reactivated in the 90's - beware the white label demos as they don't feature "Check it baby". Johnny James is another Stafford cover up - "Terrible Tom"...still rare and still sounding excellent!

Jimmy Ricks must have one of the deepest voices going, on this solo outing for Festival (see also the West Coast copy label scan in Gallery#4), featuring the wonderful line, "You make my liver quiver!" excellent!

Otis Lee was once to be found at Soul Bowl in quantity, but they tend to stick in collections nowadays and it has shot up in value due to reactivation during the 90's. He also cut another 45 for Quaint but it ain't nowhere near as good as this one...in fact it isn't even Northern Soul!

Sam Dees has a long pedigree of fine soul releases from three decades or more, and it was a surprise that this one stayed covered up for as long as it did, being the famous artist he is! Another Dave Thorley Stafford spin that has remained popular ever since and indeed as the returning soulies get to hear it for the first time, the demand for it has pushed the price higher than it ever commanded at it's height at the "Top of the World" club. Bobby Mac is tough on a real copy - beware the lookalike US bootleg, albeit the vinyl is thinner and the print isn't as clear, when compared to the real McKoy.



Anorak's Corner

Labels

Rarities #3