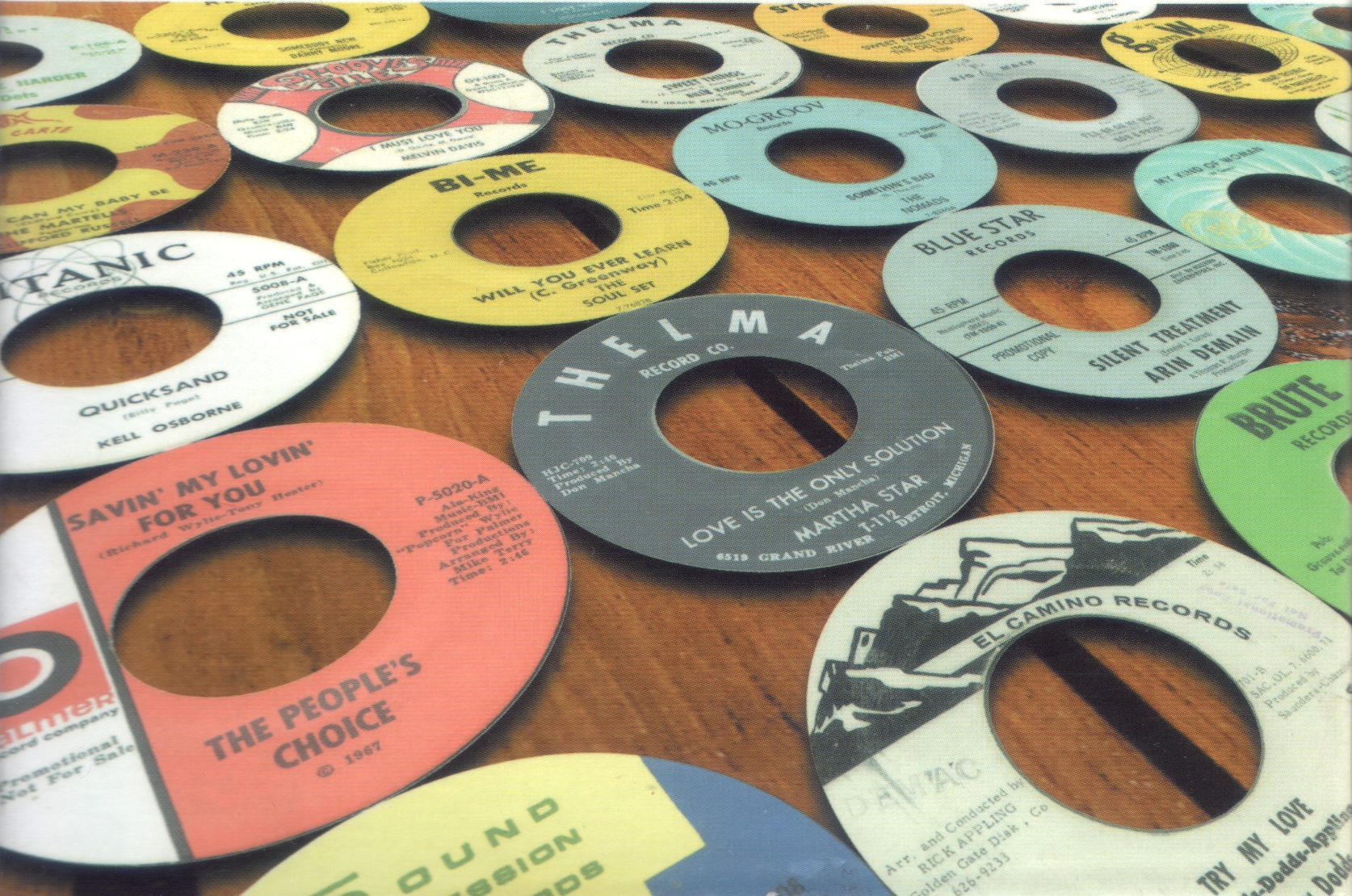 Anorak's Corner

Labels

Rarities #5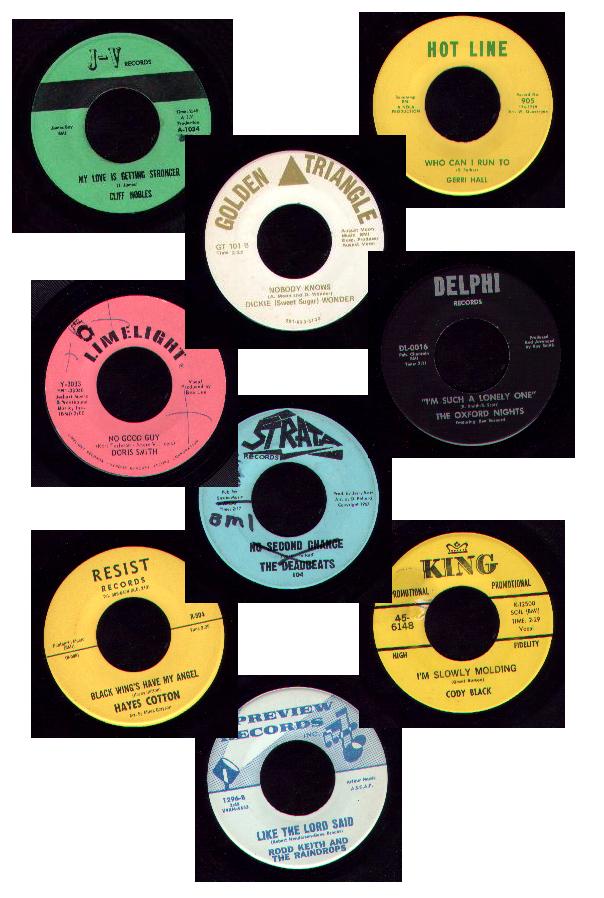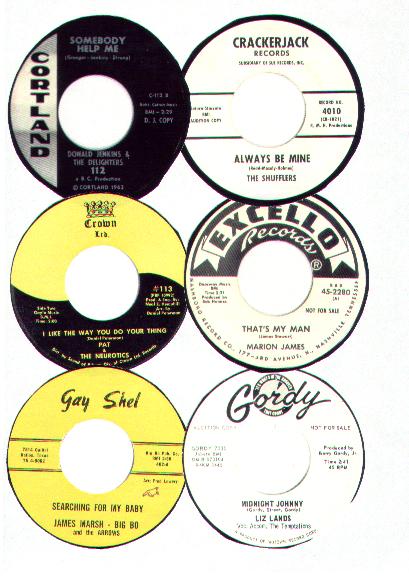 Donald Jenkins & The Delighters was initially played as "Clifford Binns - I walk all alone". Here's the less colourful, but equally desirable promo copy. This was a local hit in the Chicago area. The Shufflers - another Guy Hennigan spin from the Stafford period - initially played as "Derek Martin" and the WD copies just credit it to the group whilst orange stock copies/demos credit it to "Jay & The Shufflers". Magnificent moody NYC mid-tempo soul!

Pat & The Neurotics is a storming 100mph dance track with a screaming saxophone break, yet due to rarity it has yet to really break through onto deejay play lists - although Gary Rushbrooke used to give it a try! Marion James has been reactivated lately due to the popularity of the tougher R'N'B kinda sound, of which this is one of the highest order. Here's the rarer WD copy.

James Marsh is a real cruncher of a track with power-house brass work throughout. Not known to most, but it has had a few airings over the years. Once again, it's own rarity has probably held it back. Liz Lands' dance floor favourite really broke big in the latter part of the 80's. Her multi-octive vocal range is well on show on this track. There's also a few other takes set at a more uptempo pace in circulation on Jobete acetates.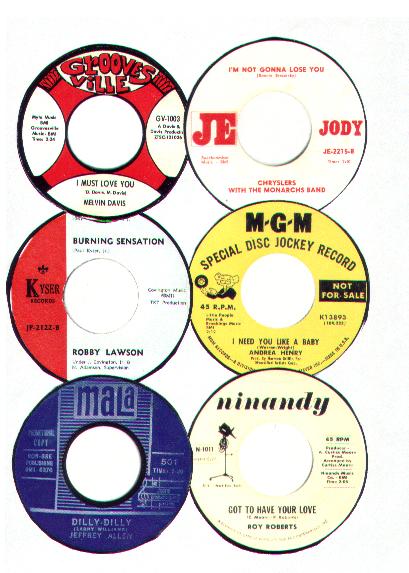 From the pen of Larry Williams and under the production of Bill Justis, Jeffrey Allen's "Dilly dilly" is a great slab of underated soul - kinda New York meets Chicago in it's style! Was played covered up as "Hal Miller - On top of the World". Roy Robert's organ dominated track is now more sought after than ever, on both the Bo-Ro local label and Nina Simone's Ninandy label. It also came out on Jamaican Stateside!

Robbie Lawson's only ever 45 is one of the heavy weight collectors pieces and has never be found in quantity in over 25 years of collectors searching for it. Here's what a real one looks like. Andrea Henry only ever released one 45 of which both sides are superb, as alledgidly she preferred to write and produce for other people. Shame really, but at least one other track from her has been recovered from the vaults - "As time goes by", which is equally as stunning.

Melvin Davis - a true Detroit 60's soul pioneer and a hero to many soul fans World-wide. This is probably his most sought after recording and the toughest number on the Groovesville label. The Chryslers & Monarchs Band went under the name of "Mad Dog & The Pups" and is a 100mph track with organ, brass work and some fantastic vocals. Popular amongst collectors, but possibly a little too fast for most on the dancefloor.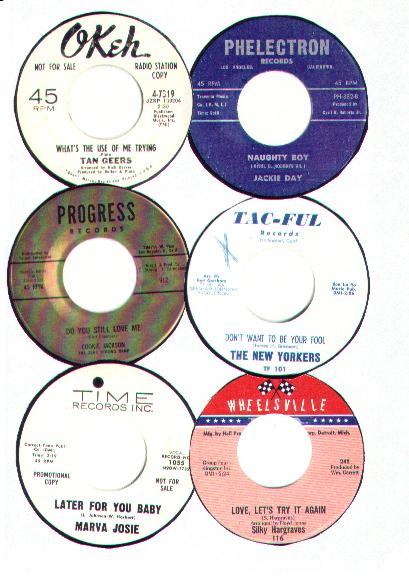 One of the Northern Soul scene's most popular spins at present is "Let your heart & soul be free", which is the A.side to the storming "What's the use of me trying". The group had but one other release, on the Scepter label. Soul legend Jackie Day's finest Northern track in my opinion. Pure uptempo four beats to the bar Northern Soul with a faultless saxophone solo and production. Excedingly rare unfortunately.

Cookie Jackson, or "Mikki Farrow" as it was first played as, has been creeping up in value of late. Label colours found thus far are either gold or orange. She's recorded for several other labels including Okeh, which will appeal to Northern fans.

Here's the sparse label design of the New Yorkers gem, which receives spins regularly but has never really gone massive! The more common label features a picture of a US footbal player, and it also came out on Radio City records.

One side of Marva's awsome double sider on Time records - the flip being "You lied", which itself has received the most attention.This side is a quality mid-tempo track with an overal better vocal performance in my opinion. Silky's only disc for Wheelsville is a superb double-sider. He can also be heard on several other Detroit discs, as he was a session saxophone musician as well.