Last year I recieved an email from a guy in Atlanta, who had found Anorak's Corner when typing in "Soul Set" into a search engine...this is a copy of the mail:

"I was doing a search on Google and was extemely pleased to find that you feature my old group, the Soul Set.  I was the drummer in that band.  It was wonderful to hear Will You Ever Learn again! We were all students at Western Carolina University (in the mountains of North Carolina) in the late

60's and on weekends we toured the south in our 'Soul Van' (actually a new Dodge van, pulling a trailer full of equipment).  We were booked by the Hit Attractions agency, and played clubs and college parties until we broke up in 1969.  We never made much money, but we toured alot and met some great people.  I have lost track of the other band members and hope they are ok. They were a talented group of guys."

Bill Pratt

Atlanta, Georgia. USA

We started to exchange mails and I would fire various questions at him about the group and their recordings. However, not long after I added a few of Bill's memories onto this site, I then recieved another email from a guy called Dick Hilliard saying that it was actually he who was the drummer for the Soul Set! This is what Dick had to say initially:

"My Name is Dick Hilliard and,  for the "record", I was the drummer for the Soul Set when "Will You Ever Learn" was cut at the Arthur Smith Studio in Charlotte, NC.  I was the original drummer for the band but after I recieved a letter from Uncle Sam requesting my presence for Military Service, my tenure as the Soul Set drummer ended.  I am sure that's when Bill took over as drummer."

A few more emails were exchanged between the three of us, and prompted by this Bill dug out some of his old notebooks and pin-pointed more precisely his Soul Set experience!

"I started college at Western Carolina University in August 1967," he said, "and joined the Soul Set in September. They had been around before I got there and I know I was not their first drummer, but was not sure of the exact chronology til I did a little research." 

Bill sent me the group line-up which he played in from September 1967 until the breakup, which he recalled as being mid 1969,

"I know it was not later than that because I got married in December 1969 and I know the band was not playing together that fall."  

The members of the group were as follows:

Johnny Burnside - lead vocals

Bill Humphrey - Hammond organ & backup vocals

Bob Laidlaw - guitar & backup vocals

Mike Trull - trumpet & backup vocals

Frank Kelly - trumpet & backup vocals

Tony Gibson - bass & backup vocals

...and of course both Dick Hilliard and Bill Pratt on drums!

There was also two other members, Freddie and Brenda of whom the guys couldn't recall surnames, and weren't in the group when they toured with Bill. Dick refered to Freddie as "Our James Brown man!"

Soul Survivor

The Soul Set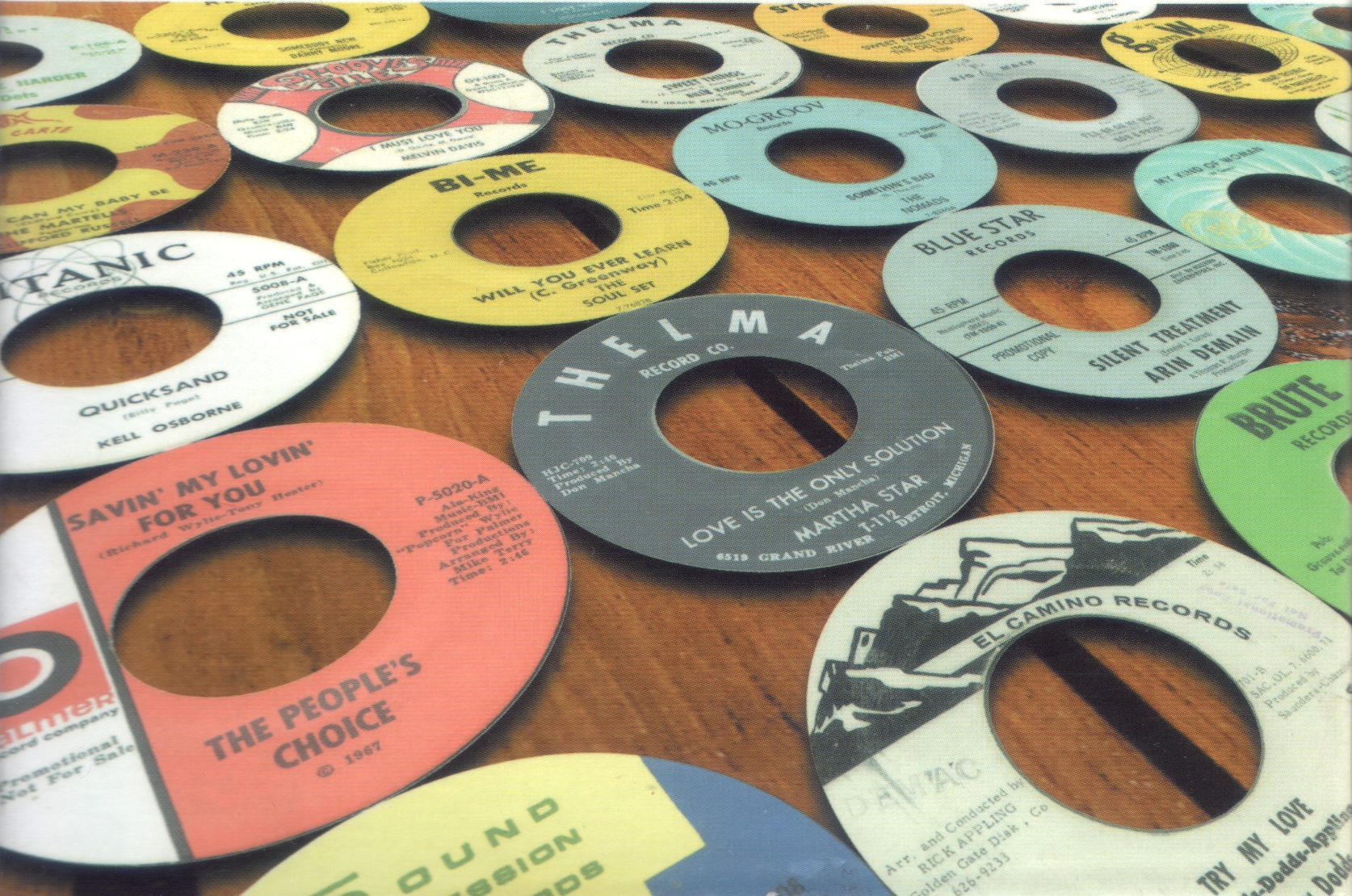 The band was put together during '66 at WCU by Charlie Greenway of Hickory, NC...more about him later. They were originally managed by David Fisher at WCU, and were booked through Ted Hall Enterprises of Charlotte, NC. They played at Frat Parties at UGA, UNC, USC, UT, and many other smaller colleges and Universities in the southeast.  Dick recalled performing at many clubs with the most memorable for him being "The Cellar" in Charlotte, NC, "The Jokers Three" in Greensboro, NC and, of course, "The Beach Club" in Myrtle Beach, SC. Bill recalled that the band also played support for both Carla Thomas (in Knoxville) and The Esquires and that they had gigged in Tennessee, Georgia and Virginia.

"We would leave the university around noon on Friday", says Bill, "and play both Friday and Saturday nights, returning home on Sunday afternoons. Practise would be every Wednesday night, and it was a miracle that any of us graduated!" They all did y'all be pleased to know! Dick also added, "I married a lovely girl, Becky, that I met as a result of my involvement with the Soul Set, and Bill played the organ at our wedding, whilst the other guys were ushers back in December of 1967."

The only label they recorded for was Bi-Me records, and indeed this was to be their only recording onto vinyl. They are not to be confused with any other acts of the same name -i.e. The group on Johnson Records, out of New Jersey, which featured Norman Seldin.  Unfortunately, it did not sell well at all, and Bill remembers that they had a huge cardboard box full of unsold records which they didn't know what to do with, so they gave these 'leftovers' away free to family, friends and whoever expressed the slightest interest. He did recall this cute little story,

"I still have a copy of the 45, signed by the lead singer, Johnny Burnside, of whom  I vaguely remember me kidding him about being a "star", and he said, alright then, I'll give you my autograph...funny because we'd known each other for years!"

Their 45 was recorded during 1967, and Bill was surprised to look at it again and notice that the matrix numbers showed: 7-7683A Please Don't Make Me Cry / 7-7683B Will You Ever Learn

...surprised as they thought "Please Don't Make Me Cry" would be the "A" side.

Both sides of the 45 credit C. Greenway as the writer - and that was of course Charlie Greenway, a fellow student and later their manager too.  He would also play the saxophone and is the one blowing hard on the 45, but he didn't play with the band live very much, preferring to tend to the business end of things.  Bill says, "When we toured, we were heavier on the horns (trumpets) than the sax, but I think Trull or Laidlaw would do some sax work."

Charlie also had connections with Hit Attractions, a booking agency in Charlotte, North Carolina who got them bookings.  Bill recalls that they were told that they were the agencies second biggest band on their roster, although he couldn't recall who was first.  From a business perspective, they seemed to make decent money as a band, but the individual members would only take home a small amount ($20-$30), which was miserable even by the standards of that era.  They kept getting told that the "remainder" was sunk into expenses for travel, van payments, PA systems etc and eventually there were some ugly scenes about the finances and monies unaccounted for, and the band decided to call it quits.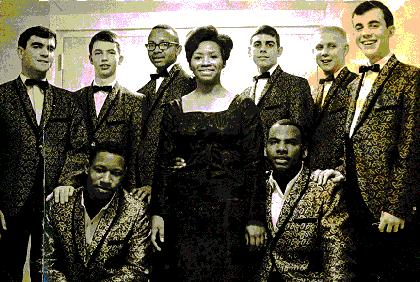 Promotional photo of the band circa 1966 just before a student dance at Dotson Cafeteria on the Campus of WCU.

(Back row left to right)

Bill Humphrey - Organ, Frank Kelly - Trumpet, Tony Gibson - Bass, Bob Laidlaw - Guitar, Dick Hilliard - Drums,

Charlie Greenway - Saxophone

(Front row left to right)

Freddie Freeman  - vocals "Our James Brown man", Brenda (last name unknown) - vocal,

and Johnnie Burnside - vocals (lead singer for "Will You Ever Learn").

I also asked Bill about other groups that were around at that point:

"I heard The Embers many times.  When I heard them, they had teriffic harmonies, an awsome horn section that twirled their horns in unison, professional chreography, and matching suits.  They regularly played Raleigh, Chapel Hill, Greensboro, Myrtle Beach, and Ocean Drive.  We called their style of music "Beach music" because it was believed to have orginated in the coastal towns of Myrtle Beach and Ocean Drive, South Carolina.  Many people in the South still love beach music. Other popular groups that regularly played the Carolinas included The Tams (huge here...great harmonies, etc. in the beach music genre), The Kingsmen, Doug Clark & The Hot Nuts (raunchy, funny...all high school guys thought they were great), The Fabulous Five (awesome horn section...horns were miked by three mikes coming off a single mike stand)."

Here's what Dick had to say on the same question:

"I'm originally from Elon College, NC (near Burlington) where I was brought up on a steady diet of Carolina "Beach Music", smooth R&B and Soul.  I idolized local bands like "The Fabulous Five", Chester Mayfield & The Casuals, The Catalinas, The Embers, and so on.  The drummer for the Fabulous Five was my inspiration, at dances I would find a location where I had a good view, and watch, and learn."

Bill also told me that his ancestors came to America from Kent in the 1600's, so he'd always wanted to see Great Britain first-hand which he did in 2000. He is hoping to return, "When we can spend more time there, drink more beer, and hear more music!"

Dick also has strong connections with the British Isles, via Ireland on his father's side and Scotland on his mothers'...and he to fancies a pint or two on these shores once he retires from teaching! He told me that he cherished the memories of the road trips he made and would like very much to make contact with other band members, "The last I heard Bill Humphrey owned his own Insurance Agency in Greensboro, NC, Mike Trull was owner or co-owner of a concern that manufactured marching band uniforms and accessories and Bob Laidlaw is now a minister for a United Methodist Church near Tallahassee, Florida. A reunion would be great!"

If any of you other members of the band are reading this, please
drop me a mail
so I can put you all in touch once again.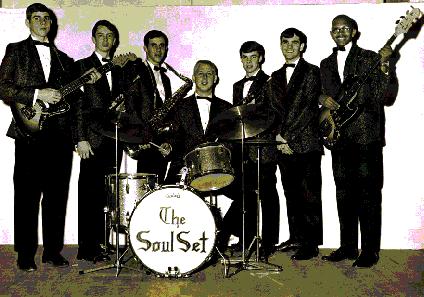 PROMOTIONAL PHOTO OF "THE BAND", circa 1966

From left to right:  Bob Laidlaw  guitar, Frank Kelly  Trumpet, Charlie Greenway  Sax, Dick Hilliard, Drums, Mike Trull  Trumpet, Bill Humphrey  Organ, Tony Gibson  Bass.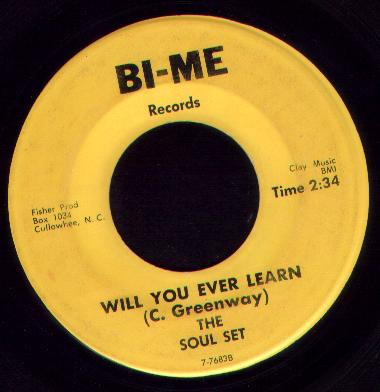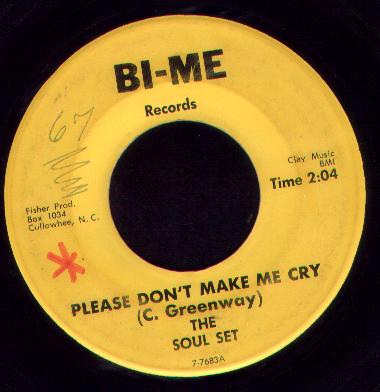 UPDATE: 7th July '03

Dick has been in touch with Bob Laidlaw (lead guitar) and he reminded him of a few facts, including the missing surname of one of the vocalists - Freddie Freeman...Brenda's last name is still a mystery though! Dick wrote, "Bob also reminded me of some gigs where we backed up the Dixie Cups, the Drifters and Clifford Curry.  Bill Humphrey, also sat in for an absent keyboardist when Little Anthony & The Imperials came to do a concert at Western Carolina University (WCU). Another recollection, we all went in to Reid Gymnasium at WCU to watch a concert by Ben E.King, the music was great going in and when I looked at the stage, there were my drums (the Soul Set on the Bass) it seems that Ben E's drummers set was lost, forgotten, whatever, and David Fisher (our manager) graciously offered my set...of course I didn't mind! I got to meet and talk to Ben E King after the concert.  As I was leaving he said, "Wait a minute, take one of the copies of our new 45", he pulled out a pen and wrote a nice, personal note and signed the record.  Over time that became lost, too.  I would give anything to have it back."

So, there's a mission for someone...have you got that disc with a greeting to Dick from Ben E.King on it?!